Cream
and
I specialize in unique colors and patterns! Scroll down for puppy pictures and links!
FOR INFORMATION ON SHIPPING CLICK HERE!
1-877-655-2008 Toll Free ~ DAWN
CLICK HERE TO Email ME: DEWCO@CASAIR.NET

TO PRE-RESERVE A PUPPY CLICK HERE!
---
Date of Birth 5-9-18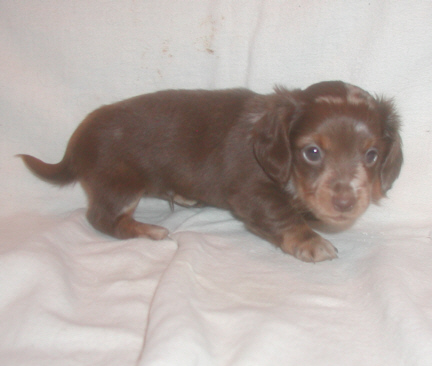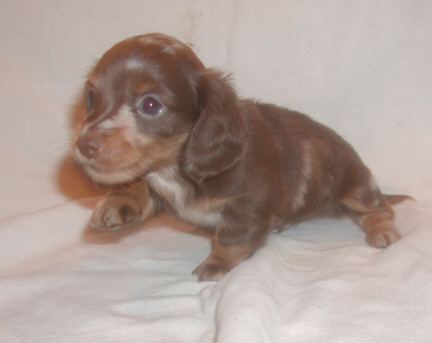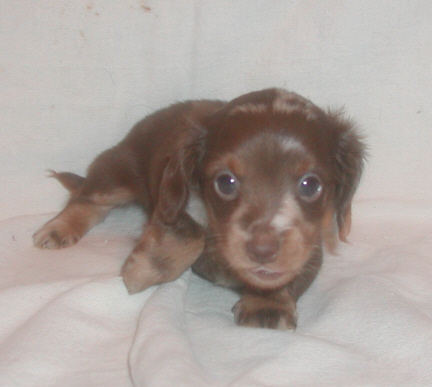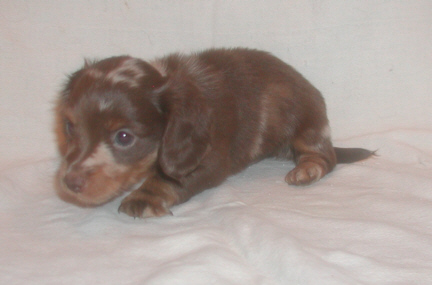 Chocolate Silver Dapple Male $650
Pictures Taken 6-16-18
---
Adults for Sale - Please Contact!
---
Visit Often...There is always something new to see!
YOU ARE ALWAYS WELCOME TO COME TO MEET AND VISIT ALL OF US!
Please click here for information on what to look for in a reputable breeder
---
Home of the Velcro Dog!!!
...They are soft and stick to you...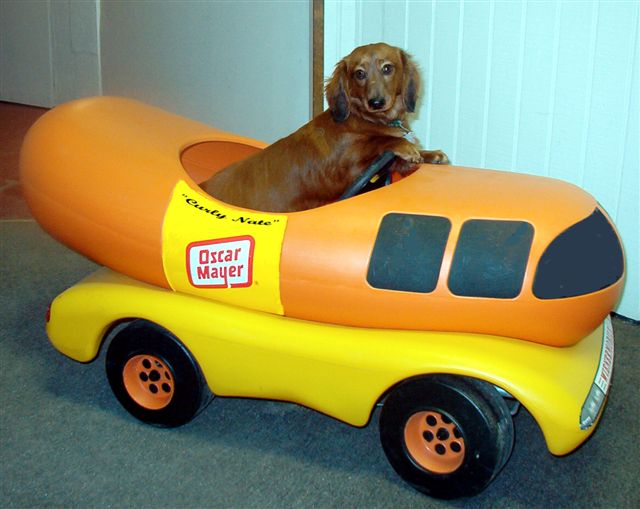 Curly Nate in his Wiener Mobile!!!
His Mom is Gretchen!
Click here for...Dachshund Colors and Patterns Click here for...AKC Breed Information
Click here for...Animated Proper Dachshund Gait Movement & Conformation points
Currently located West of Alma in Central Michigan, I breed for intelligence, true to breed conformation, and free from Back, Hip and Jaw problems. Puppies are wormed, Veterinarian checked, and have received all shots appropriate to their age. All my puppies come with a contract at the time of sale.
My pups are all home raised in a loving, well socialized atmosphere. They are exposed to Horses, Big Dogs, Cats, and Parrots. They are well on their way to being potty trained, as well as having basic handling familiarity. They are loved ALOT, and handled daily. Basic commands such as Sit, Stay, No, Come, and Go Outside to go Potty the pups are worked with daily. No dogs on the premises are kenneled. I sell to good, loving homes only. I do not sell to Puppy Mills, Brokers, or Retail Dealers.
1-877-655-2008 Toll Free
dawn
CLICK HERE TO Email ME: DEWCO@CASAIR.NET

Web design also available ~ please email me!
Click Here for pictures of us on our Treadmill during our Workouts!
Relaxing on our couch!

Photo taken 5-29-08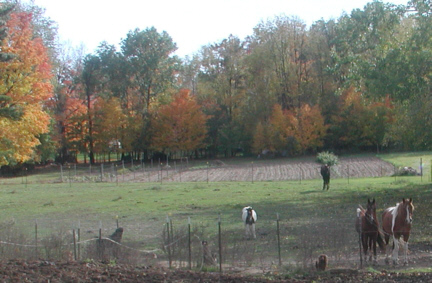 10-21-07
click here for pictures of trail rides!!!
---
Click Here for...Cesar Millan "The Dog Whisperer" website
Click here for...Information on his Show
---
Thank You for Visiting!
HAVE A BLESSED DAY
I reserve the right to refuse a sale for any reason.